These blue and white signs encourage visitors and travellers to leave the highway and discover local communities and major tourist attractions. You are eligible for this program if your business's primary purpose is to offer visitors one or more of the following kinds of activities:
Outdoor recreation

Heritage or historical

Educational

Scientific

Environmental

Natural

Cultural

Entertainment
The sale of goods must be secondary. There are specific qualifying criteria based upon attendance, visitor amenities and operating times. All costs are borne by the operator. 
When applying for signage, please indicate the exits where the signs will be located and the nature of the attraction. Applicants are also requested to make clear that all requirements for signs will be met and to indicate that they are able to cover the associated costs.
Major Tourist Attractions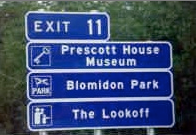 For information on other provincial highway signage visit the Transportation and Infrastructure Renewal website.
To apply, please contact:

Jennifer McKeane
Tourism Planning and Development Officer
t: (902) 424-6540
e: Jennifer.McKeane@novascotia.ca