2019 Consumer Marketing Campaign
"Do More in Nova Scotia" North American Campaign
Tourism Nova Scotia has launched a new marketing campaign aimed at attracting first time visitors from Ontario, Quebec and the Northeastern United States.

The 2019 "Do More in Nova Scotia" campaign is an evolution of the very successful "If You Only Knew" campaign which ran from 2016 to 2018. The "Do More" campaign is focused on creating awareness about Nova Scotia as a vacation destination in our target markets, and helping travellers visualize the incredible things they can do on a Nova Scotia vacation.
The campaign includes national and specialty television ads as well as content integrations on popular TV shows, and a digital buy with display, video, search and social media advertising.  Music featured in the ads is the song "Get Me Through the Night," by Nova Scotia artist, Dave Sampson.
Campaign highlights:
The "Do More" campaign anchor is a 30-second video ad for television, along with two 15-second ads and four 6-second online video ads.
Digital display and social media ads, with supporting custom campaign landing pages. 

Storyboard for the "Wonder" digital display ad.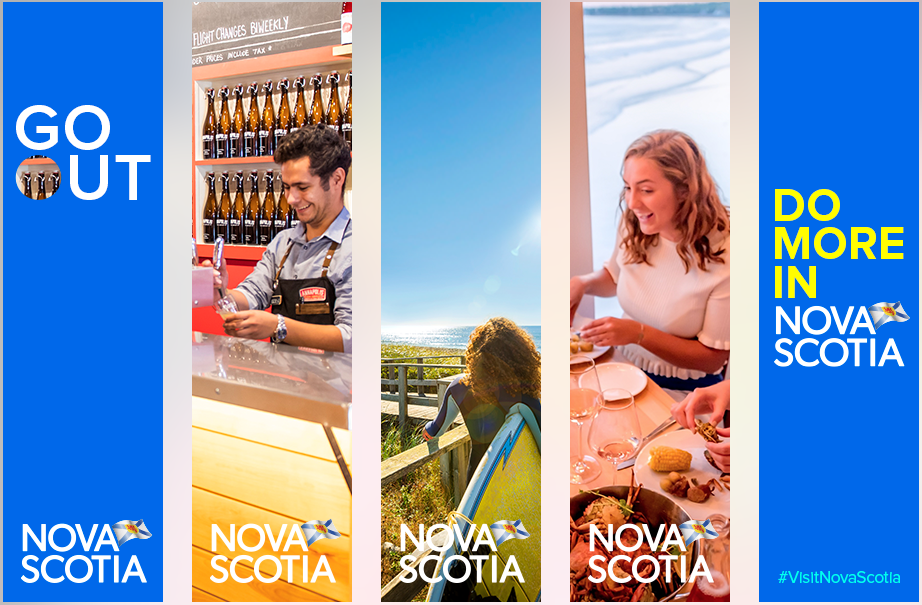 Tourism Nova Scotia is partnering with popular TV shows including "Big Food Bucket List" on the Food Network airing nationally in Canada, and CBC's "Les Chefs!" airing in Quebec, and with popular cultural influencers Colin and Justin from CityLine and Breakfast Television Toronto.
 
#NovaScotiaUNLISTED Contest
Tourism Nova Scotia's #NovaScotiaUNLISTED contest invited Nova Scotians to share their favourite photos of "lesser-known" places to see and things to do in Nova Scotia, in an effort to inspire more people to visit and travel throughout the province.
Participants entered on Instagram by sharing photos of their favourite locations, restaurants or activities in Nova Scotia using the hashtag #NovaScotiaUNLISTED.
This was a great opportunity to tap into Nova Scotians' pride in their home province. Select photo submissions were shared in key markets to help inspire  potential visitors to book a Nova Scotia vacation. Two photo submissions were selected for the cover of the 2020 Nova Scotia travel guides.
Overseas Digital Marketing Campaign
Tourism Nova Scotia also launched a digital campaign in the United Kingdom and Germany, using paid search, online video display, and social media ads. The overseas campaign will continue to use the "If You Only Knew" campaign materials, as they are effective and still fresh in these markets. This year will mark the first year using paid social media advertising in Germany.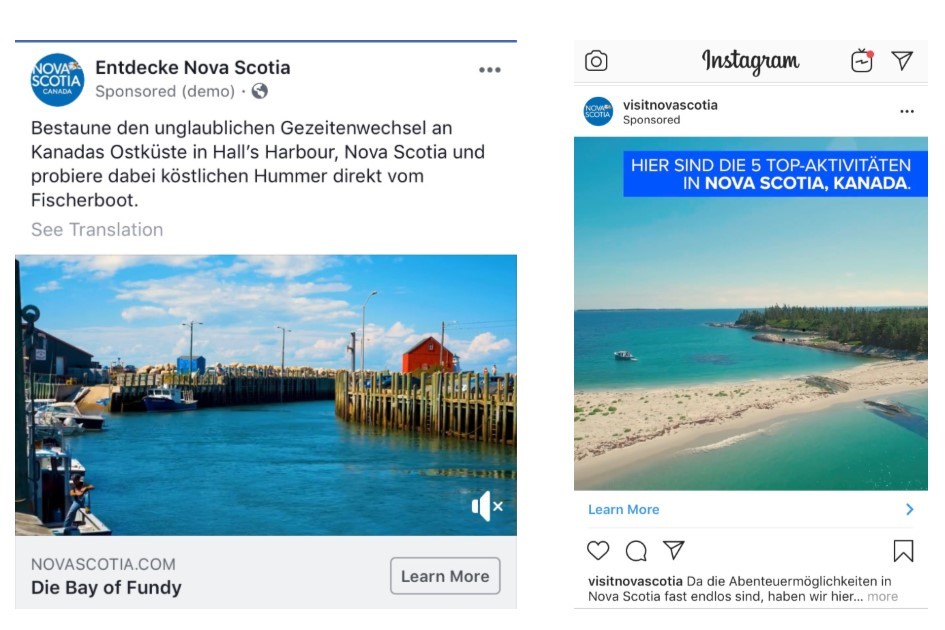 Tourism Nova Scotia partnered with Halifax International Airport Authority and airline carriers to promote awareness of Nova Scotia and air routes in Germany and the UK.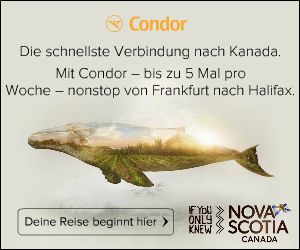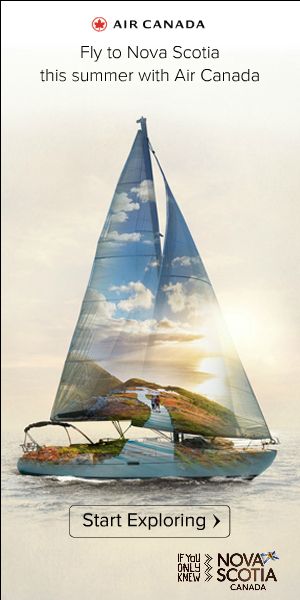 We partnered with WestJet on a London taxi campaign, which includes 14 branded taxis, tip seats, receipts and videos to raise awareness of the breadth of activities available in Nova Scotia, and WestJet's direct flight from London to Halifax.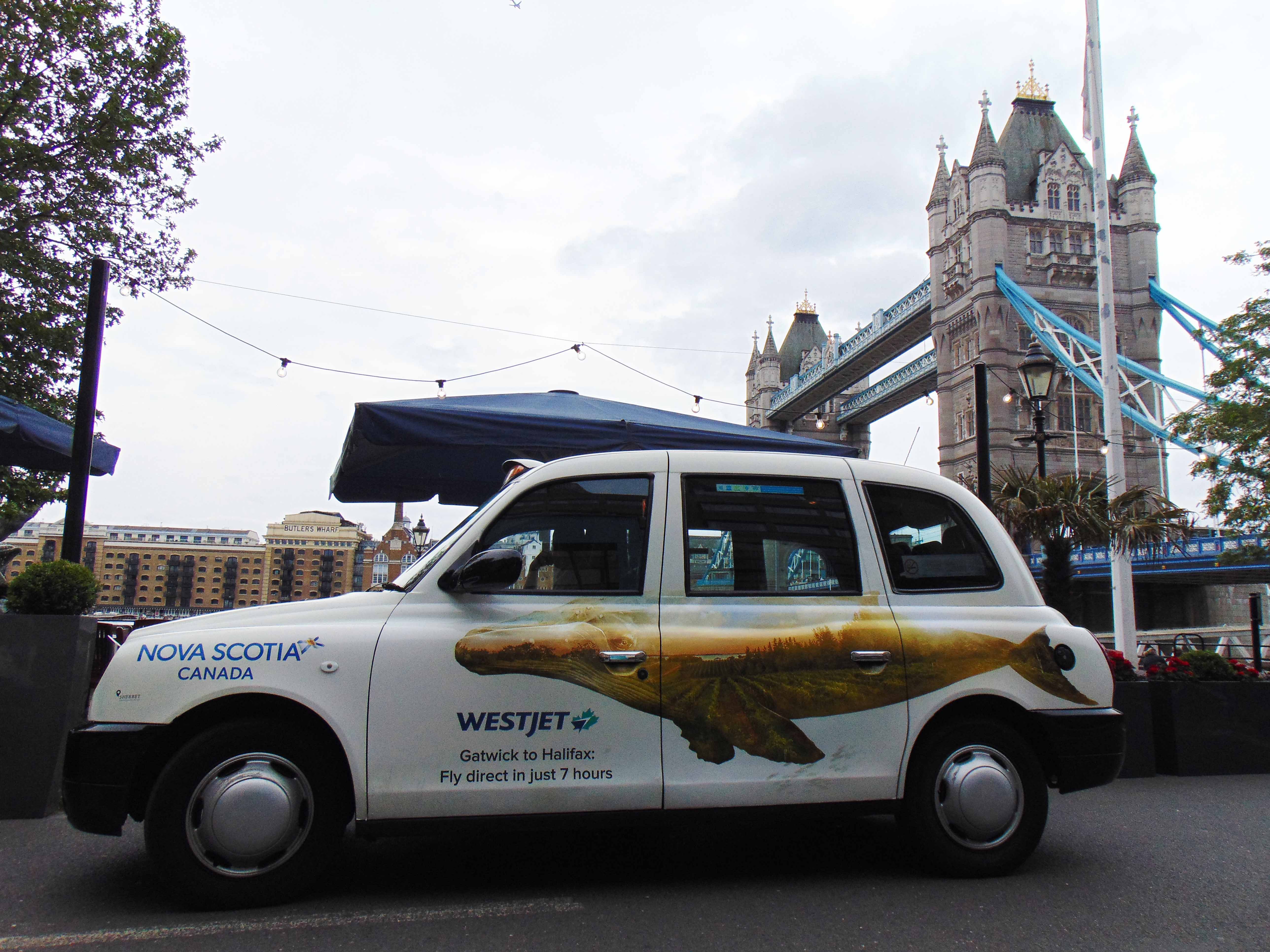 Marketing in China
In 2019, we will continue to work in partnership with Destination Canada and our in-market representative in China to create awareness of Nova Scotia through the travel trade (tour operators and travel agents) and travel media. Nova Scotia participates in travel marketplaces, hosts tour operators and media on familiarization tours, and meets with travel agents in China to help sell more Nova Scotia vacations.
We will also partner with the Atlantic provinces on direct-to-consumer advertising in print and online.