If You Only Knew
Tourism Nova Scotia launched a fresh new marketing campaign in April 2016 that inspires first-time visitors from major cities in Canada and the northeastern United States to discover all the great things Nova Scotia has to offer.
Research shows that many people have Nova Scotia on their consideration lists, however they don't necessarily know what they would do on a trip to the province. The campaign is designed to help visitors visualize what they can do on a vacation to Nova Scotia.
Entitled, If You Only Knew, the campaign includes digital, billboards, print, television and movie theatre advertising using footage shot by Nova Scotians. 
The campaign showcases experiences through video and social media content, and directs viewers to NovaScotia.com where they enter to win one of six trips to Nova Scotia. Visitors to the website are encouraged to watch six videos, each with a distinct theme and enter to win the vacation they find most appealing.
On social media, the campaign harnesses local enthusiasm for Nova Scotia as our residents share their local travel tips and favourite attractions with #VisitNovaScotia, for the online world to explore.
Fast Facts
Target Markets:

Canada: Toronto, Montreal
Northeastern United States: Boston, New Haven, Hartford

Campaign Duration: April – September
Themes: Ocean, History, Culture, Food & Drink, Adventure, Natural Beauty
Social Media Hashtag: #VisitNovaScotia
If You Only Knew 30-second Television Spot
Television ads on major broadcasters across Canada and the northeastern United States, and digital media with a heavy concentration on videos will create the foundation of the plan. The TV ads will air through to mid-June. From mid-May until mid-July, we'll be larger than life in over 35 Cineplex movie theatres, on more than 290 screens.
Out-of-home
In Canada, we'll have a robust digital out-of-home presence, leveraging large format super boards and transit shelters reach commuters on their way into the city core.
For those commuting via transit, digital video columns and transit screens meet them on their journey at major subway and train stations. While at work, over 200 digital elevator ads meet people during lull time in elevators in Toronto, Montreal and Boston.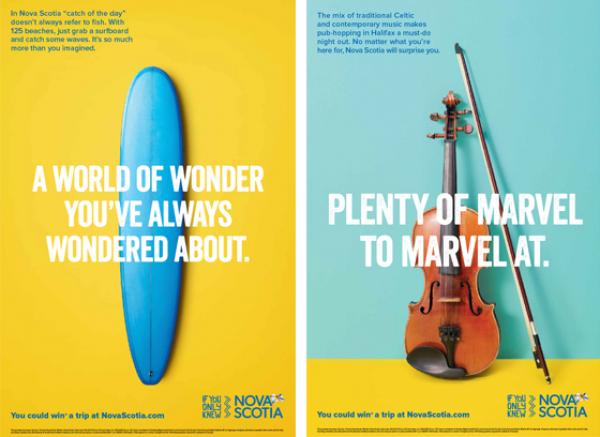 If You Only Knew  15-second Videos
If You Only Knew – Food & Drink
If You Only Knew – Natural Beauty
 
Direct Mail and Print
At the end of the day, almost a million people will be greeted with a personalized door hanger at their house. While relaxing on the weekend, newspapers will highlight the province in local and national editions such as The Globe and Mail, Toronto Star, Montreal Gazette, La Presse and Boston Globe.