Five Ways the TripAdvisor Widget Can Help Your Business
Wednesday, December 19, 2018
Doesn't it feel great when visitors rave about how much they enjoyed their stay with you? Capturing that feedback and sharing it with travellers who are thinking about booking a trip to Nova Scotia is a great way to help close the sale.
The TripAdvisor widget on NovaScotia.com is an opportunity for Nova Scotia tourism businesses to highlight customer feedback about experiences, and encourage more travellers to make a purchase.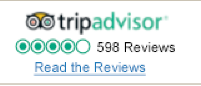 The widget is one of the quality indicators on business listings, and displays the business's TripAdvisor rating and links to the page where visitors can read reviews from other travellers.
Here are five ways TripAdvisor can help your business be more competitive:
1) Peer reviews are critically important to informing travel decisions, and TripAdvisor is the leading travel review site. Research tells us that travel review web sites are the most popular source of inspiration among travellers (PhocusWright Canadian Online Travel Survey 2017).
2) Positive peer reviews give travellers more confidence in choosing your product. Most reviews on TripAdvisor are positive – the average score is 4/5.
3) A free listing on TripAdvisor is a great way to help you market your business online.  TripAdvisor has 455 million visitors to its website each month, and we know that travellers are looking for reviews to help them decide where to stay and what to do while on vacation. 
4) Businesses can use TripAdvisor to learn about customers' experiences and reactions. This information can be used to help improve quality. TripAdvisor's research also shows that customers are more likely to have a positive impression of a business if management provides a meaningful response to a negative review.
5) Positive online reviews can help reinforce the quality of Nova Scotia's tourism products, and get more travellers looking at our province for their next vacation.
We encourage you to create or claim your TripAdvisor listing and said the link or ID for your page to novascotia@novascotia.ca to have the TripAdvisor widget added to your business listing.
Related Links:
How to List Your Business on TripAdvisor
Subscribe to our inTouch newsletter to receive updates on Tourism Nova Scotia's programs, partnership opportunities, marketing activities, research, and resources, as well as industry success stories and professional development opportunities.