Digital Marketing Program
Tourism Nova Scotia's Digital Marketing Program provides Nova Scotia tourism businesses and organizations with an opportunity to partner with Tourism Nova Scotia (TNS) to promote their products and/or services in Canada (excluding Atlantic Provinces) and the Northeastern United States, using digital marketing tactics.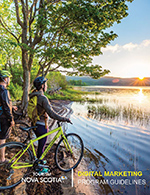 TNS will work with selected partners to develop mutually beneficial objectives, customize and implement a unique digital marketing campaign that will best deliver on the established objectives. Tactics may include social media advertising, search engine marketing, and display and video advertising including the use of TNS's remarketing lists. The minimum partner investment is $5,000 plus a 15% media buying fee, and Tourism Nova Scotia will match the partner's investment.
For any questions about the Digital Marketing Program, please contact Sarah Hennebury, Marketing Advisor at (902) 798-6953 or sarah.hennebury@novascotia.ca.
2018-19 Digital Marketing Program Participants: