Inspiring Content Program
This program is designed to increase production and use of quality content when promoting Nova Scotia experiences to potential visitors. Partners (individual operators or groups) will have the opportunity to invest between $5,000-$50,000, which will be matched by Tourism Nova Scotia, to produce marketing assets. Successful applicants will see their content shared via Tourism Nova Scotia's marketing channels, in addition to their own.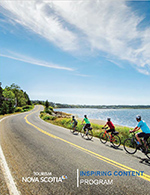 This program is open to tourism businesses, tourism-related organizations, and licensed accommodations and campgrounds in Nova Scotia.
Thank you for your interest, we look forward to reviewing your application. Tourism Nova Scotia will be in touch with all applicants.
Click here to view the Inspiring Content Program guide and to access the application form.
Please note: The 2017 Inspiring Content Program application period is now closed.
For any questions about the Inspiring Content Program, please contact Sarah Hennebury, Marketing Advisor at (902) 798-6953 or sarah.hennebury@novascotia.ca.