COVID-19 Recovery Research
Tourism Nova Scotia is sharing research and insights to show what tourism recovery could look like in Nova Scotia.
The COVID-19 pandemic has had a widespread impact on tourism businesses, related-organizations, events, and communities. Every tourism stakeholder faces a different challenge at this time. Our research team is working with Destination Canada and conducting its own research to develop scenarios for what post-pandemic recovery could look like in Nova Scotia. Based on this research, we are directing our resources towards programs, initiatives, and marketing activities that will help Nova Scotia's tourism industry recover and rebuild.
Tourism Nova Scotia will continue to share updated research and marketing information as it becomes available. If you have questions about these reports, please contact us at TNScommunications@novascotia.ca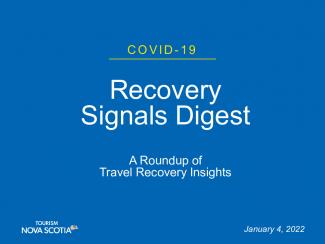 Recovery Signals Digest
The Recovery Signals Digest is an overview of travel recovery indicators compiled by Tourism Nova Scotia.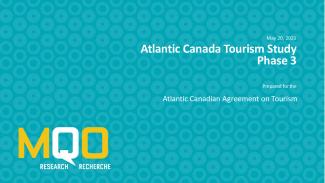 Atlantic Canada Tourism Study
Study of Atlantic Canadians' mindsets and preferences regarding travel conducted by MQO Research on behalf of the Atlantic Canada Agreement on Tourism.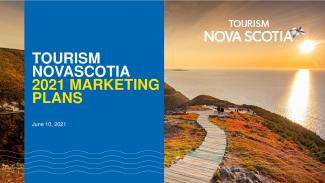 2021 Marketing Plans and Research
See Tourism Nova Scotia's 2021 marketing plans and the research insights guiding our approach.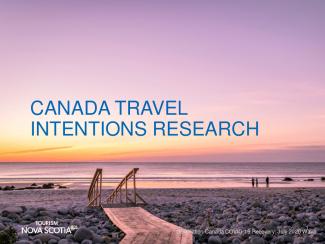 Canada Travel Intentions Research
See results from Destination Canada's survey of Canadians regarding their intentions to travel both within Canada and internationally and the conditions that would lead them to travel.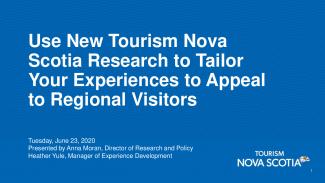 Tailor Experiences to Appeal to Regional Travellers
View a presentation by Tourism Nova Scotia with advice, insights, and resources to help you create and promote travel experiences to attract Atlantic Canadians.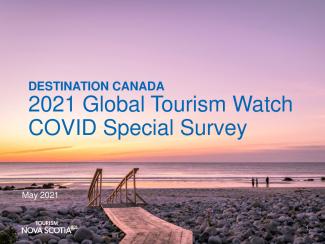 Global Tourism Watch & Travel Intentions
Highlights from Destination Canada's Global Tourism Watch and Travel Intentions Survey conducted in May 2021.