Tourism Nova Scotia produces annual estimates of overall tourism revenues. Tourism revenues estimates have been updated to 2013.
Tourism revenue estimates are a compilation of all Nova Scotia tourism-related expenditures made by non-resident visitors and Nova Scotians travelling within the province.
To develop tourism revenue estimates, Tourism Nova Scotia uses information from several surveys, including the Travel Survey of Residents of Canada, the International Travel Survey, the Economic Contribution of the Cruise Industry in Canada, the Tourism Nova Scotia Air Exit Survey, and the Tourism Nova Scotia Visitor Exit Survey. In addition, Tourism Nova Scotia sources visitor volume information through vehicle enumeration, cruise visitor information, and ferry passenger information.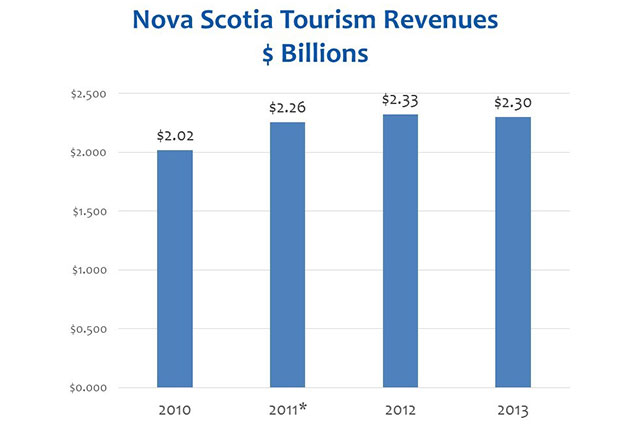 Depending on the year, spending by Nova Scotians accounts for about 40-45% of overall tourism revenues for Nova Scotia.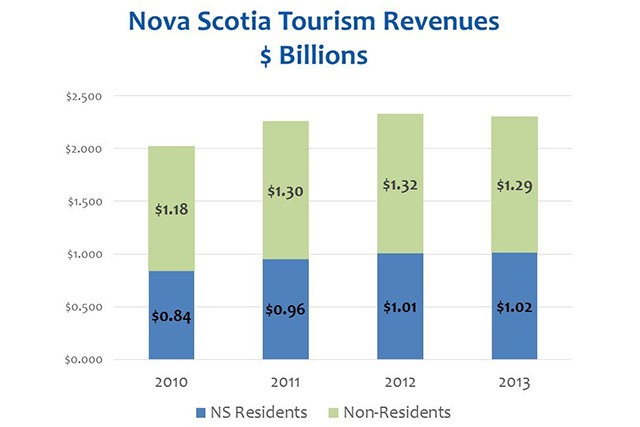 Notes:
*2011: The Travel Survey of Residents of Canada was updated in 2011. Tourism revenues generated by Nova Scotians are affected by the updated survey, and should not be compared with earlier years. Tourism revenues from non-residents are not affected.