Tourism revenues are a measure of the economic impact of tourism. They include all tourism-related spending within Nova Scotia by non-resident visitors and Nova Scotians travelling within the province, in categories such as accommodations, transportation, food and beverage, cultural services, recreation and entertainment, and travel agency and other reservation services.

Tourism Nova Scotia produces annual estimates of overall tourism revenues, which are updated as new information becomes available. As of April 2019, final estimates are available for 2014 and 2015, updated estimates are available for 2016 and 2017, and a preliminary estimate is available for 2018. Tourism revenues estimates for 2014-2017 have been updated based on the most recent information from Statistics Canada and Tourism Nova Scotia's Visitor Exit Survey.

To develop tourism revenues estimates, Tourism Nova Scotia uses information from its visitation estimates, as well as information from several surveys, including the Travel Survey of Residents of Canada, the International Travel Survey, the Economic Contribution of the Cruise Industry in Canada, and the Tourism Nova Scotia Visitor Exit Survey.
Nova Scotia Tourism Revenues (as of April 2019)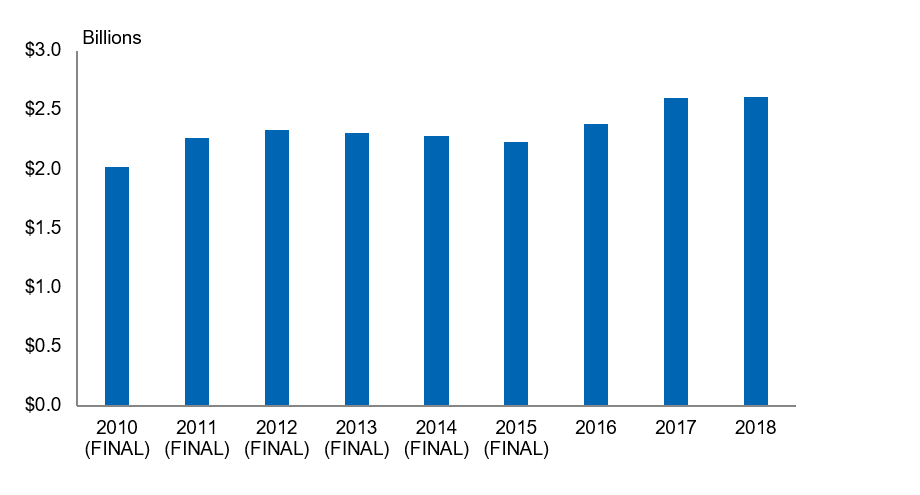 Tourism revenues reached $2.61 billion in 2018, an increase of 0.3% compared to updated estimates for 2017 of $2.60 billion.
Depending on the year, spending by Nova Scotians has accounted for about 35%-45% of overall tourism revenues for Nova Scotia. However, Tourism Nova Scotia's research shows that growth in tourism revenues in the last several years has come from spending by non-resident visitors. For example, in 2015 non-resident visitors accounted for 59% of overall spending, and in 2018, non-resident visitors accounted for 65% of overall spending. Spending by non-resident visitors will become increasingly important for revenue growth as Nova Scotia works toward the $4 billion tourism revenues goal.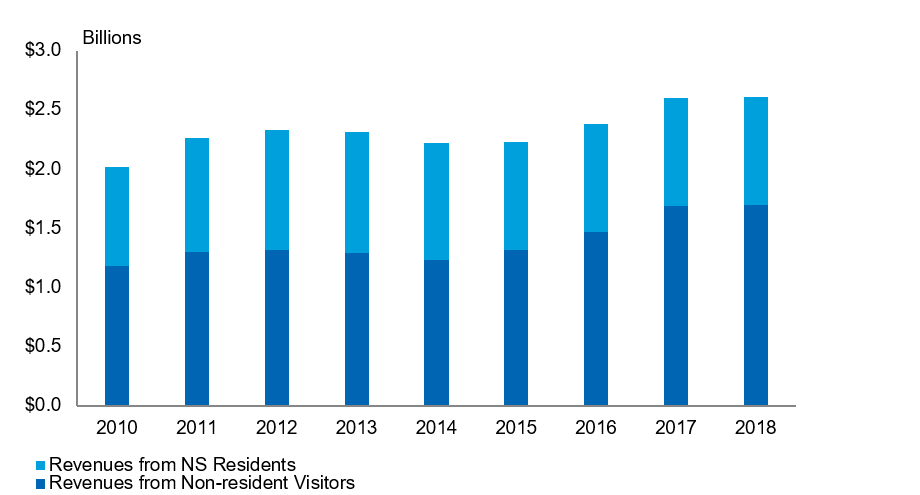 Notes:
*2011: The Travel Survey of Residents of Canada was updated in 2011. Tourism revenues generated by Nova Scotians are affected by the updated survey, and should not be compared with earlier years. Tourism revenues from non-residents are not affected.
Higher-spending visitors drive Nova Scotia's tourism revenue growth

In recent years, reflective of Nova Scotia's tourism strategy, growth in revenues from non-resident visitors has outpaced growth in non-resident visitation, demonstrating that Nova Scotia is attracting more higher-spending visitors.
| Year | Non-resident Visitation Growth | Non-resident Tourism Revenue Growth |
| --- | --- | --- |
| 2015 | +5.6% | +2.6% |
| 2016 | +8.2% | +11.2% |
| 2017 | +8.8% | +15.1% |
| 2018 | -0.8% | +0.5% |