Winners Selected for #NovaScotiaUNLISTED Instagram Contest
Thank you to everyone who submitted photos for the #NovaScotiaUNLISTED Instagram contest for a chance to win a Google Pixel 3 or have your photo featured on the cover of the 2020 Doers & Dreamers Travel Guide.
We asked you to share your favourite lesser known places to see and things to do in Nova Scotia to help inspire travellers to book a vacation here. And you really came through!
We received more than 4,600 submissions during the contest period. There were so many incredible photos submitted that we couldn't choose just one. Two grand prize winners were selected – one for the cover of the English travel guide and one for the French travel guide.
2020 Doers & Dreamers Travel Guide English Cover – Melmerby Beach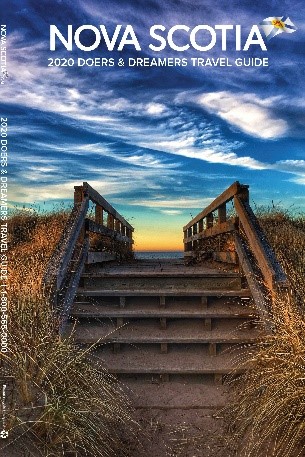 Nova Scotia's accessible seacoast and beaches are big draws for visitors to the province. The photo of Melmerby Beach Provincial Park, submitted by Angie Turner of Westville, beautifully presents one of the most visited warm water beaches in the province, and gives visitors a sense of the spectacular experience offered at provincial park beaches across Nova Scotia.
"I am so incredibly humbled that my photo was selected for the cover of the Doers and Dreamers Guide," said Angie. "I love exploring all the wonderful places in Nova Scotia with my family! I am definitely someone who is happy to have a staycation. We have it all! Lots of things to do, great people, and beautiful places to see. As you can probably tell, I am passionately in love with our beautiful province!"
 
2020 Doers & Dreamers Guide Cover French Photo –Grand Pré National Historic Site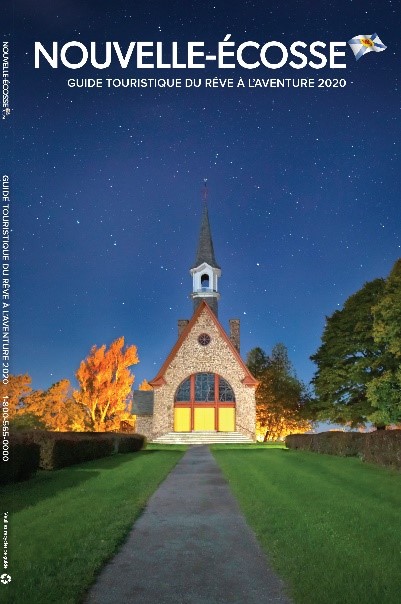 The photo of the starry sky behind the church at Grand Pré National Historic site submitted by Mark Klaamas of Hammonds Plains, was selected for the cover of the French travel guide. Travellers from Quebec rank visiting historic sites high on their list of things to do when coming to Nova Scotia. The Grand Pré National Historic Site has deep ties to Acadian and French culture in Nova Scotia and this photo showcases the site in a unique and compelling way that's sure to pique the interest of readers.
"The Doers & Dreamers Guide is one of the primary showcases for the province of Nova Scotia.  Tourism is an important industry and contributes greatly to our province.  To have my photograph chosen for the cover is truly an honour," said Mark.  "I believe this photo tells a story about the rich Acadian history associated with our province.  When searching for great locations the UNESCO World Heritage Site at Grand Pre was an obvious choice.  The church with the stars in the night sky opens your mind to explore and portrays an inviting peaceful place to visit."
Mark has been exploring photography for years and loves to capture Nova Scotia's wonderful variety of landscapes, seasons and weather.  He says, "we are one of the few locations with truly dark skies that allow for beautiful night photography."
Each of the cover winners will receive a $2,000 honorarium and credit in the travel guide.

Google Pixel 3 winners

Three entrants were randomly selected to receive a Google Pixel 3 smart phone. Congratulations to:
Carriane B. of Chéticamp, Nova Scotia 

Keigan M. of Halifax, Nova Scotia

Wayne R. of Pickering, Ontario
See examples of the fantastic #NovaScotiaUNLISTED contest photo submissions: https://www.novascotia.com/unlisted/