Tourism Nova Scotia gathers and reports tourism statistics on behalf of the tourism industry. These statistics help inform our decision-making, help describe visitors to Nova Scotia, and can be used by tourism businesses and organizations for planning and business development. As tourism indicators are compiled from several sources, data becomes available at different times. Tourism Nova Scotia reports the most up-to-date statistics available so reporting timelines for each indicator may differ.
See Full-year 2022 Visitation Statistics
2022 Visitation to Nova Scotia
Visitation to Nova Scotia recovered substantially in 2022, with Nova Scotia welcoming 1.9 million visitors, an increase of 1 million visitors compared with 2021. Visitation did not reach pre-pandemic levels, with 2022 representing a decline of 18% (or 415,000 fewer visitors) compared with 2019. 
Of those visitors, 1.2 million arrived by road (up 82% compared with 2021 and down 25% compared with 2019). Meanwhile, 725,000 visitors arrived by air (up 198% compared with 2021 and down 4% compared with 2019).
Although Atlantic Canadians continued to represent the largest share of visitors, accounting for 41% of overall visitation in 2022, visitation from Atlantic Canada did not recover to the same extent as other markets and was down by 31% compared with 2019. Visitation from Ontario was strong, representing 31% of overall visitation, up 1% compared with 2019. Visitors from Quebec accounted for 5% of visitors, down 9% compared with 2019.
Visitors from the United States accounted for 7%, down by 41% compared with 2019, while overseas visitation accounted for 5% of visitors, and was unchanged from 2019 at 86,000 visitors in 2022. 
Non-resident Visitors to Nova Scotia: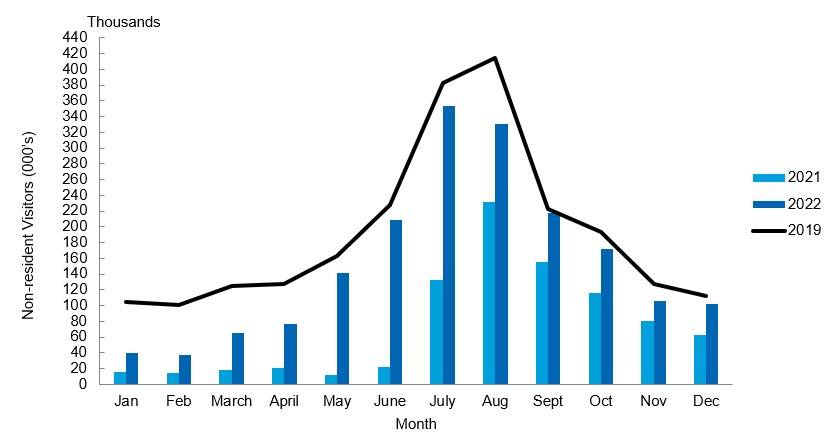 2022 Passenger Enplanements at Halifax Stanfield International Airport
While passenger enplanements are not representative of visitation to Nova Scotia, they reflect passenger traffic (both Nova Scotians and non-resident visitors, as well as connecting passengers) at the Halifax airport, which is a good indicator of how travel to Nova Scotia is recovering from the pandemic.
Overall for 2022, Halifax enplanements totalled 1.6 million, up from 456,000 in the same period in 2021, and down 26% compared with 2019.
Passenger Enplanements at the Halifax Stanfield International Airport: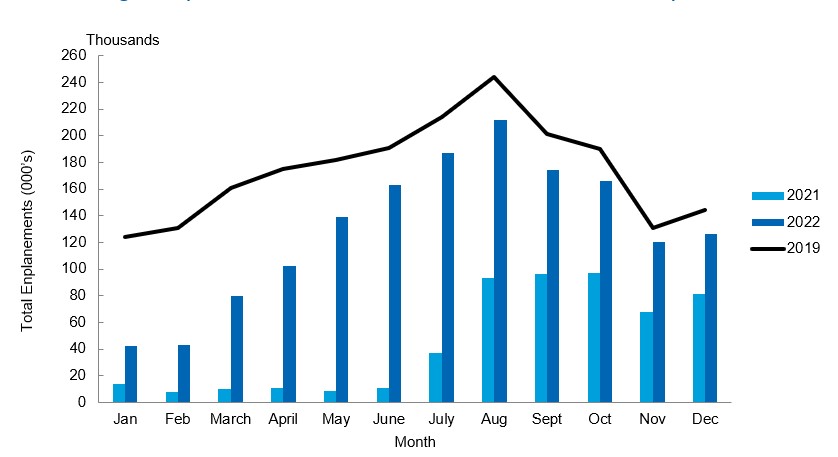 2021 Non-resident Visitation
See the 2021 Tourism Performance Report (PDF)
See 2021 Visitors by Origin (PDF)
In 2021, Nova Scotia welcomed a total of 882,600 visitors. Based on visitation estimates for 2020, visitation was up 13% in 2021 compared with the first year of the pandemic, an increase of 103,000 visitors.  However, compared with 2019, before the pandemic began, visitation was down 62% (or 1.4 million fewer visitors). 
Overall, Atlantic Canadians made up 50% of all non-resident visitors through 2021, while visitors from Ontario made up 30%, visitors from Quebec made up 6%, visitors from Western Canada made up 10%, and US and overseas visitors accounted for 4% of visitation.
A total of 639,300 visitors arrived by road in 2021, down 1% compared with 2020 and down 59% compared with 2019. Meanwhile, 243,300 visitors arrived by air in 2021, an increase of 82% compared with 2020, but a decrease of 68% compared with 2019.
Non-resident Visitors to Nova Scotia

About Visitation Statistics
Visitation statistics are compiled from a variety of sources, including:
In-person surveys administered to passengers at the Halifax Stanfield International Airport
Motor vehicle enumeration at the Nova Scotia – New Brunswick border
Passenger information from ferry operators
Data from Halifax International Airport Authority
Visitor data from provincial and community visitor information centres
Cruise passenger data from Halifax Port Authority and Sydney Ports Corporation
Attendance data from select tourism operators
These statistics reflect the combined efforts of tourism businesses, organizations, communities, and governments, and include activities by both Nova Scotians and non-resident visitors. There are many factors that contribute to tourism industry performance including events, weather, gas prices, air capacity, currency fluctuations, geo-political circumstances, and industry initiatives such as marketing. Tourism Nova Scotia is just one organization among many contributing to tourism growth. We support tourism growth through marketing in key national and international markets, support for experience and business development, and visitor servicing. For more information about Tourism Nova Scotia's strategy and performance, please see Plans & Reports.