November 2020 Non-resident Visitation
Non-resident visitation to Nova Scotia was down 57% in November 2020 compared with November 2019, as the COVID-19 pandemic continued to impact travel. According to statistics gathered by Tourism Nova Scotia, there were 55,000 non-resident visitors to Nova Scotia in November, with 7,000 arriving by air (down 84%, or 35,000 fewer visitors) and 48,000 arriving by road (down 44%, or 37,000 fewer visitors). 
In November, all visitors from outside of Atlantic Canada were required to self-isolate for 14 days upon arriving in Nova Scotia, while residents of Atlantic Canada were not required to self-isolate. Predictably, Atlantic Canadians continued to account for a higher share of visitors to Nova Scotia compared to previous years. In November 2020, Atlantic Canadians accounted for 87% of overall visitors, compared with 63% in 2019. Visitors from other parts of Canada accounted for 12%, while visitors from the US and overseas accounted for 1% of visitors in November.
Non-resident Visitors to Nova Scotia: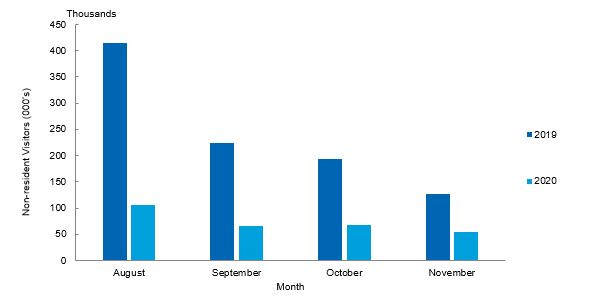 Tourism Nova Scotia's operations were affected by the COVID-19 pandemic, and we were unable to conduct enumeration activities between mid-March and July 2020. Our enumerators were able to resume work at the beginning of August. In the meantime, we are working to develop estimates of visitation for the March-July period, and expect to be able to publish these at a later date.
About Visitation Statistics
Tourism Nova Scotia gathers and reports tourism statistics on behalf of the tourism industry. These statistics help inform our decision-making process, help describe visitors to Nova Scotia, and can be used by tourism businesses and organizations for planning and business development.
Visitation statistics are compiled from a variety of sources, including:
In-person surveys administered to passengers at the Halifax Stanfield International Airport
Motor vehicle enumeration at the Nova Scotia – New Brunswick border
Passenger information from ferry operators
Data from Halifax International Airport Authority
These statistics reflect the combined efforts of tourism businesses, organizations, communities, and governments, and include activities by both Nova Scotians and non-resident visitors. There are many factors that contribute to tourism industry performance including events, weather, gas prices, air capacity, currency fluctuations, geo-political circumstances, and industry initiatives such as marketing. Tourism Nova Scotia is just one organization among many contributing to tourism growth. We support tourism growth through marketing in key national and international markets, support for experience and business development, and visitor servicing. For more information about Tourism Nova Scotia's strategy and performance, please see Plans & Reports.