Tourism Nova Scotia promotes the province as a top vacation destination and works to motivate people to spend their tourism dollars in Nova Scotia. Through consumer advertising, working with travel trade, media, and influencers, and strategic relationships with industry partners, we raise awareness of Nova Scotia and inspire people to book a trip now.
All our marketing initiatives are driven by research – from where we market, to the type of travellers we target, to the tactics and creative approach we use.
 
Consumer Brand Guidelines 2023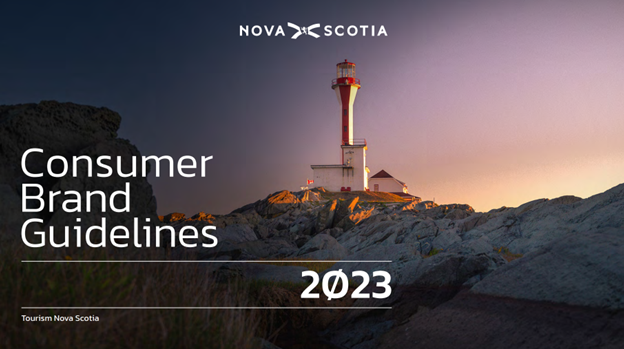 Our Consumer Brand Strategy describes what makes Nova Scotia unique and how we want that difference to be perceived by our audience. The brand strategy is informed by research and is the basis for all our provincial marketing materials.
Brand Strategy Overview:
Brand Promise
Brand Belief
Brand Personality
Brand Positioning
Brand Pillars
Our Consumer Brand Guidelines outline Nova Scotia's destination brand, as well as the brand elements used in our marketing including our logo, colour palette, typology, and photography.  
These guidelines only pertain to Tourism Nova Scotia's consumer-facing brand, not the corporate brand.
Consumer Advertising
Ongoing advertising in our target markets is essential to keeping Nova Scotia top-of-mind among travellers who are planning their next vacation. 
Tourism Nova Scotia delivers annual advertising campaigns to market Nova Scotia directly to travellers. We work with our marketing agency of record to develop advertising campaigns that resonate with our target travellers, using the Explorer Quotient marketing segmentation tool. Our goal is to showcase the many things people can see and do while on vacation in Nova Scotia. 
Key markets are identified based on access to Nova Scotia, awareness of Nova Scotia among travellers, and match between what Nova Scotia offers and the interests of travellers in each market. 
We conduct assessments on the effectiveness and return on investment (ROI) for each campaign. Tourism Nova Scotia's advertising campaigns have proven effective at both raising awareness and influencing travel. The 2019 campaign ROI research estimated that each $1 invested in media buy in Tourism Nova Scotia's target markets of Quebec, Ontario, and Northeastern United States generated $21 in tourism spending in Nova Scotia. 
Market Development
Tourism Nova Scotia works with key travel agents and tour operators and travel media in our target markets to raise awareness of Nova Scotia. We represent Nova Scotia at travel marketplaces and on sales missions, and host familiarization tours to encourage the sale of more Nova Scotia vacations. We also pitch stories and host press trips to give journalists and influencers a first-hand experience of Nova Scotia so they can share stories that inspire people to travel here. 
Our market development team also provides advice and support to help tourism businesses and organizations build relationships with travel agents, tour operators, and media to grow awareness of their products and services.