Tourism Nova Scotia's Strategy
Tourism Nova Scotia is responsible for leading sustainable tourism growth and maximizing the value of tourism for the provincial economy. Our corporate strategy is a blueprint for how we work together with industry stakeholders to enhance Nova Scotia's competitiveness as a destination and drive industry growth.
Nova Scotia's tourism industry has seen tremendous growth, and now faces unprecedented challenges with the impacts of COVID-19. The industry has been forced to adapt and innovate to navigate the new tourism environment. 
We are currently in the process of updating our strategy, which will reflect global impacts related to COVID-19 and outline our plan for leading Nova Scotia's tourism industry through recovery and renewal.
A thriving tourism industry benefits Nova Scotians through:
Growth in the sectors that support the tourism industry (restaurants, accommodations, construction, retail, transportation)
Government programming through the tax revenues generated from tourism activities in Nova Scotia
Increased air access
New business investment
Increased pride of place
A wealth of tourism attractions, activities, and accommodations options for Nova Scotians to enjoy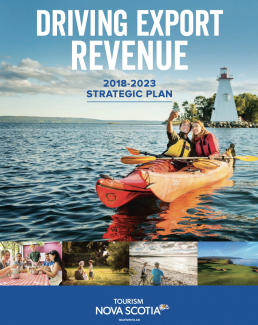 Tourism Nova Scotia's strategic plan
Read our strategy to understand how we focus our activities and invest our resources to lead tourism growth in Nova Scotia.
Note: The following strategic plan was in place prior to the COVID-19 pandemic. A new strategic plan is under development.
Tourism Nova Scotia's strategic plan, Driving Export Revenue, outlines how Tourism Nova Scotia will help lead the industry to achieve the goal set out in the Ivany Report to reach $4 billion in annual tourism revenues by 2024. The plan also identifies roles for Nova Scotia tourism stakeholders so we can all work together as efficiently and effectively as possible to achieve the $4b goal.
 The four pillars of Tourism Nova Scotia's strategy are:
Attract first-time visitors to Nova Scotia.
While Tourism Nova Scotia cares about all visitors, our marketing messages and execution will focus on converting those who have not been to Nova Scotia before.
Invest in markets of highest return.
Tourism Nova Scotia will invest its marketing dollars in markets that will attract the highest value visitors to Nova Scotia.
Focus on world class experiences.
Tourism Nova Scotia will lead tourism experience and sector development through a "world class" lens to support attracting first-time visitors to the province.
Build Nova Scotia's tourism confidence.
Tourism Nova Scotia will build stakeholder knowledge of, and support for its strategic direction to attract increased investment, grow revenues, and boost Nova 
Industry Stakeholder Roles
Collaboration and alignment of effort are key to success. That means that all tourism players must rally behind a common goal, and everyone must "own their role." Following are the roles identified for Nova Scotia tourism industry stakeholders:
Industry
Close the sale pre-trip and during trip
Drive repeat visitation by exceeding visitor expectations
Invest in product
Deliver world class experiences
Community
Community is defined as municipalities, destination marketing organizations, and regional tourism industry associations. Community includes all Nova Scotia residents. Personal interactions with Nova Scotians are critical to the visitor experience and influence the desire of visitors to recommend Nova Scotia as a vacation destination and to become repeat visitors. Community roles include:
Partner with industry to deliver destination development and marketing
Visitor servicing
Government
Consider policies that support tourism growth, including:
Community economic development
Attraction of inward investment
Infrastructure development