World-class Experience EXCELLerator Program
Collaborate with Tourism Nova Scotia to develop world-class experiences that differentiate Nova Scotia, appeal to the Free Spirit segment, and create marketing assets to attract new visitors.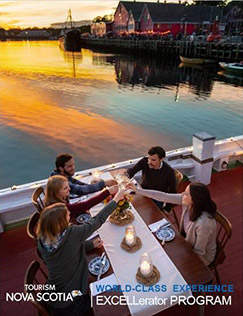 Successful applicants will benefit from:
Increased experience development skills
New photography to promote your new experience
Inclusion in Tourism Nova Scotia marketing, including NovaScotia.com, social media and the Doers & Dreamers travel guide
Insights on sales opportunities

The EXCELLerator partner program is open to businesses, tourism-related organizations, and licensed accommodations and campgrounds in Nova Scotia.
Thank you for your interest in the 2019 World-Class Experience EXCELLerator Program. The application for the 2019 program is now closed.
Questions about the World-Class Experience EXCELLerator Program can be directed to Heather Yule, Manager, Experience Development at heather.yule@novascotia.ca.
Participants in the 2018 World-class Experience EXCELLerator Program: