World Class Experience EXCELLerator Program
Collaborate with Tourism Nova Scotia to develop world-class experiences that differentiate Nova Scotia, appeal to the Free Spirit segment, and create marketing assets to attract new visitors.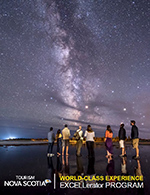 Successful applicants will benefit from:
Increased experience development skills
New photography to promote your new experience
Inclusion in Tourism Nova Scotia marketing, including NovaScotia.com and potential FAMs
Insights on sales opportunities
The EXCELLerator partner program is open to businesses, tourism-related organizations, and licensed accommodations and campgrounds in Nova Scotia.
Click here to view the 2017 EXCELLerator Program, including overview, Free Spirit insights, experience concepts, guidelines, and to apply.
Please note: The 2017 World Class Experience EXCELLerator Program application period is now closed.
Questions about the World-Class Experience EXCELLerator Program can be directed to Heather Yule, Manager, Experience Development at (902) 798-6768 or heather.yule@novascotia.ca.
Introducing the New 2017 World Class Experience EXCELLerator Program Participants:
Participants in the 2016 World Class Experience EXCELLerator Program
New World Class Experiences available Now:
Note: The privacy rights of online visitors to our website are fully protected by Nova Scotia's Freedom of Information and Protection of Privacy Act. Any personal information collected from program applicants relates directly to the operation of programs and will not be used for any other purpose. To obtain access to or to correct personal information you have submitted, please contact the Tourism Development Team at tourismdevelopment@novascotia.ca.