Tourism Nova Scotia produces annual estimates of tourism revenues, which are updated as new information becomes available.
Tourism revenues are a measure of the economic impact of tourism. They include all tourism-related spending within Nova Scotia by non-resident visitors and Nova Scotians travelling within the province, in categories such as accommodations, transportation, food and beverage, cultural services, recreation and entertainment, and travel agency and other reservation services.
Click the links below to read more about tourism revenues in Nova Scotia.
Tourism Revenue Forecast (September 2020)
A best-case forecast based on information available as of September 2020 suggests tourism revenues will not surpass $900 million for the year. That's a $1.7 billion decline from 2019's estimate of $2.6 billion.
The assumptions for the September update to the best-case tourism revenue scenario for 2020 are:
Typical tourism demand from January to mid-March.
No tourism demand from outside Nova Scotia from mid-March to June. Minimal demand from Nova Scotia residents during this period.
Starting in July, moderate recovery among Nova Scotia resident travel within the province. Same-day travel recovery stronger than overnight travel.
Starting in July, weak to moderate recovery in tourism demand from New Brunswick and Prince Edward Island, primarily road
Starting in October, weak recovery in tourism demand, primarily by road, from rest of Canada.
No tourism demand from US from mid-March to end of year.
No tourism demand from other international markets from mid-March to end of year.
No cruise.
Of the $900 million estimate, $600 million is from Nova Scotians travelling within the province, and $300 million is from non-resident visitors. This estimate will be updated monthly to reflect changes to the travel assumptions mentioned above.
Nova Scotia Tourism Revenues (as of April 2020)
As of April 2020, final estimates are available for 2016 and 2017, an updated estimate is available for 2018, and a preliminary estimate is available for 2019. Tourism revenues estimates have been updated based on the most recent information from Statistics Canada and Tourism Nova Scotia's Visitor Exit Survey.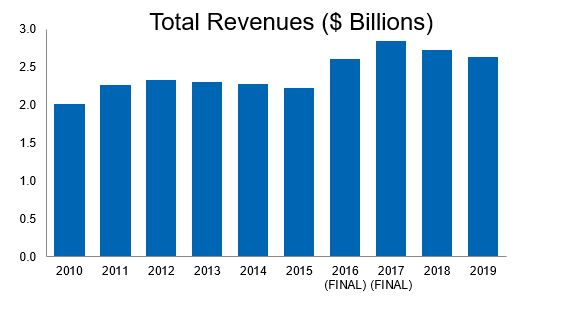 The preliminary estimate of tourism revenues for 2019 is $2.64 billion, a decline of 3.3% compared with updated estimates for 2018 of $2.73 billion. The decline in tourism revenues is reflective of the decline in non-resident visitation to Nova Scotia in 2019. Three external events contributed to the decline: 1) the grounding of the Boeing MAX aircraft resulted in a significant decline in air capacity from overseas markets, as well as a decline in domestic air capacity; 2) the Maine-Nova Scotia ferry did not operate in 2019; and 3) Hurricane Dorian contributed to a significant decline in visitation in September 2019.

Depending on the year, spending by Nova Scotians has accounted for about 35%-45% of overall tourism revenues for Nova Scotia. However, Tourism Nova Scotia's research shows that growth in tourism revenues is largely dependent on growth in tourism revenues generated by non-resident visitors.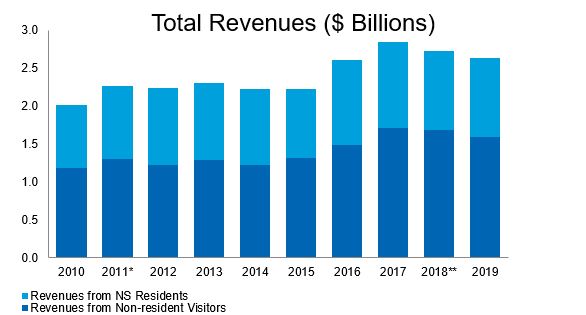 Notes:
*2011: The Travel Survey of Residents of Canada was updated in 2011. Tourism revenues generated by Nova Scotians are affected by the updated survey and should not be compared with earlier years. Tourism revenues from non-residents are not affected.
**2018: Statistics Canada introduced two new travel surveys in 2018, the National Travel Survey and the Visitor Travel Survey. Tourism revenues generated by Nova Scotians are affected by the updated surveys and should not be compared to earlier years.
Breakdown of 2019 Tourism Revenues by Category
| | |
| --- | --- |
|   | Percentage |
| Sports, culture and entertainment | 5% |
| Vehicle rental and local transport | 5% |
| Restaurants | 19% |
| Vehicle operations | 10% |
| Accommodations | 21% |
| Transportation | 18% |
| Shopping | 13% |
| Groceries | 9% |
| Total | 100% |
How Revenues are Calculated
To develop tourism revenues estimates, Tourism Nova Scotia uses information from its visitation estimates, as well as information from several surveys, including the National Travel Survey (formerly the Travel Survey of Residents of Canada), the Visitor Travel Survey (formerly the International Travel Survey), the Economic Contribution of the Cruise Industry in Canada, and the Tourism Nova Scotia Visitor Exit Survey.