Travel Trade Market Readiness Program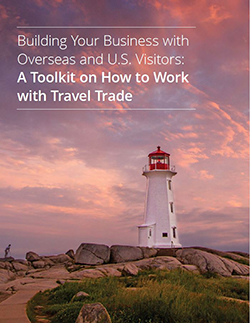 The Travel Trade Toolkit has been developed to provide tactics, processes and best business practices on how to develop and expand your distribution, and ultimately your business. The information in this toolkit, combined with advice and assistance from Tourism Nova Scotia's Market Development team will assist you in growing your business on the path to success.
The Atlantic Canada Travel Trade Readiness Program was developed in Atlantic Canada through partnership between the Atlantic Canada Opportunities Agency, and the four Atlantic Canada provinces.
For an introduction to working with travel trade, please click on the following YouTube video link (length: 1 hour). This video webinar was recorded by Hospitality Newfoundland & Labrador.
Please fill in the form below to access a copy of the 2018 Atlantic Canada Travel Trade Readiness Toolkit.