2023 Advertising Campaigns
Tourism Nova Scotia runs advertising campaigns to encourage travel to and within Nova Scotia. Campaigns inspire people to spend their vacation time and money in communities throughout the province. See below for information about current tourism marketing campaigns running in 2023.
Your Ocean Playground Fall Campaign
New fall ads are running from September 5 to October 14 in Ontario to highlight the breadth of things to see and do in Nova Scotia this fall. The campaign includes YouTube video ads, digital display ads, and social media ads directing people to a landing page to book their fall getaway.
Videos
For more videos, visit https://www.youtube.com/playlist?list=PLprZuph0CZC_d2gikS6xf-6Cy8MQtGXG6.
Social Media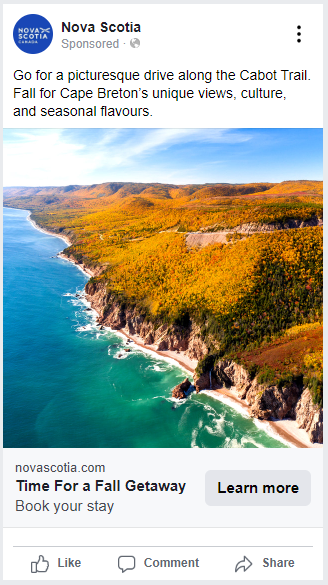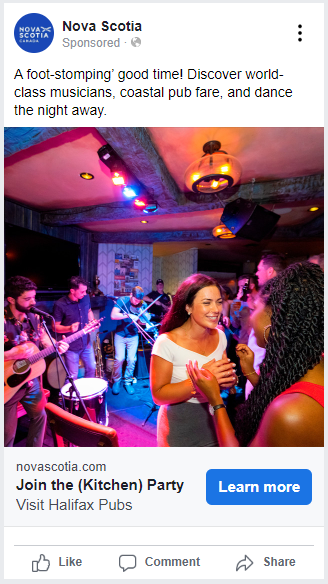 Display Ads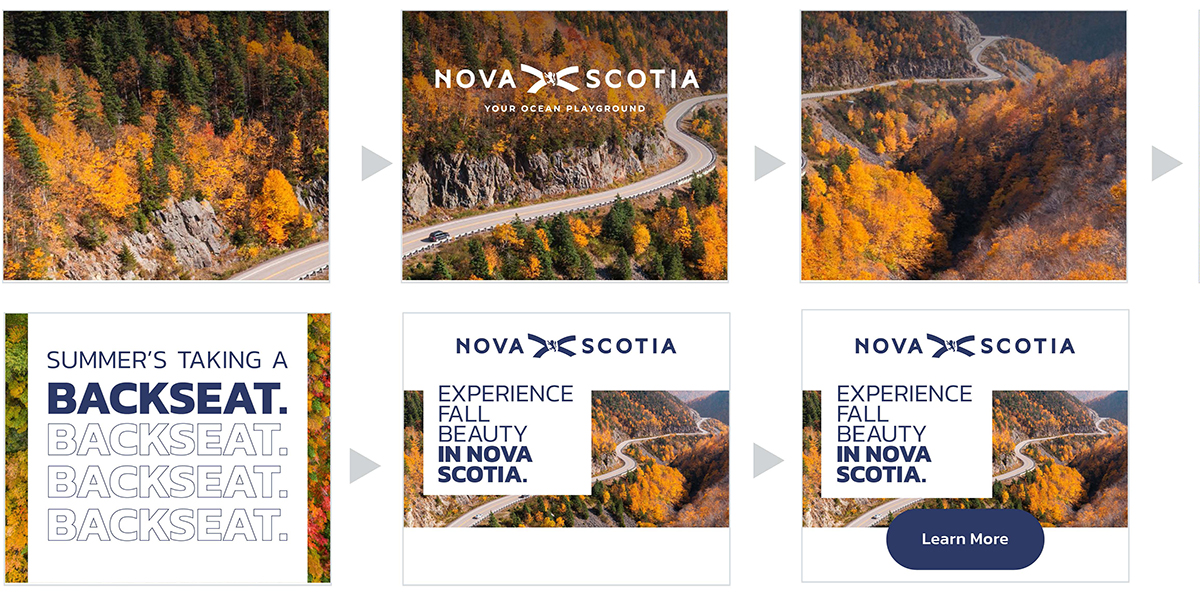 Compelling Tourism Communities Digital Marketing Program Campaign
The Compelling Tourism Communities Initiative (CTC) is running from September 5 to October 31 in Prince Edward Island, New Brunswick, and Nova Scotia. The campaign focuses on promoting fall visitation and building awareness of Nova Scotia's lesser-known communities through highlighting events, outdoor adventure activities, wineries, culinary experiences, accommodations, and more. Tactics include digital video ads on YouTube and streaming services, digital display ads, and social media ads.
Videos
Display Ads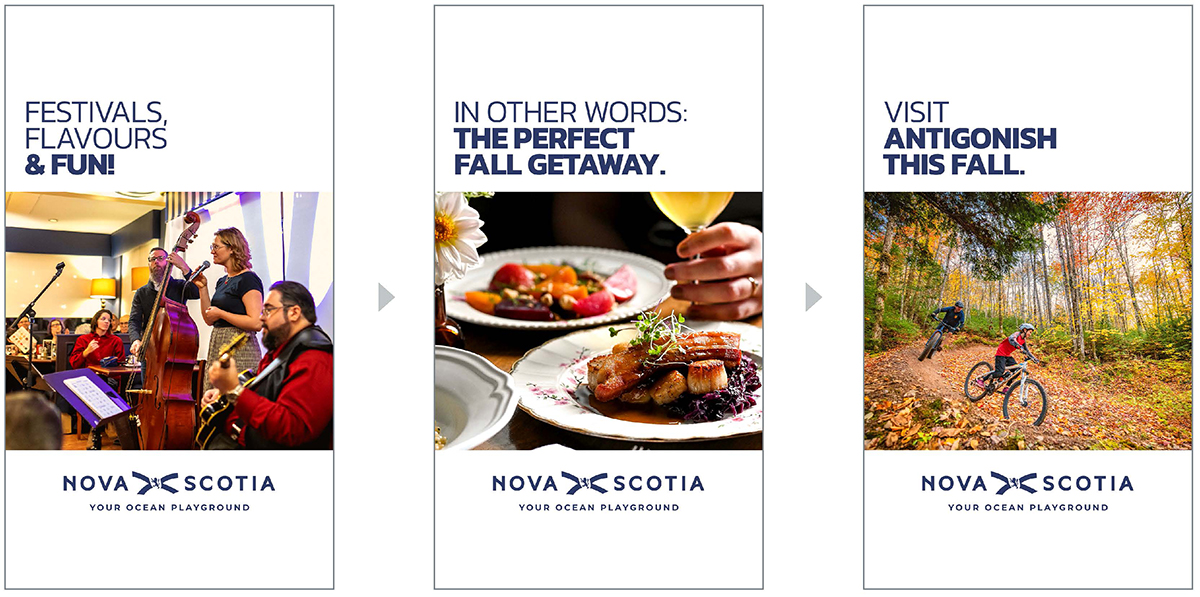 Your Ocean Playground Campaign: North America
The Your Ocean Playground is running from March 6 through the end of summer in Ontario, Quebec, Connecticut, Maine and Massachusetts. The campaign focuses on seacoast delights and Maritime culture, through the story of a couple travelling all 13,000 kilometres of our coastline.
Watch the Campaign Introduction
Watch the 30 Second Video Ad
With more than 100 videos, audio clips and images, the campaign shows the wide range of things to see and do in every part of our province. Tactics include paid search, television, billboards, social media, video and display ads.
English Billboards



French Billboards


 
Social Media


Display Ads

Overseas Campaigns
In the United Kingdom and Germany, we are continuing with the successful Do More in Nova Scotia creative that was developed in 2022. Ads launched in February and run until April to catch travellers when they are in the planning stages of their trips.
In our overseas markets, we also partner with key airlines such as Air Canada and Condor/Eurowings Discover to promote non-stop flights to Nova Scotia. Tactics include social media, digital display and YouTube ads as well as search engine marketing.
Germany Social Media

 
United Kingdom Social Media


Nova Scotia and Atlantic Canada
We run ads year-round in Nova Scotia and Atlantic Canada. These travellers are most likely to travel in the province during the cooler months. Winter and spring campaigns will continue to run until March 31. 

Our focus in Nova Scotia and Atlantic Canada in 2023 will be working with communities and businesses to run campaigns highlighting Nova Scotia's compelling attractions and activities through our partnership programs like the Digital Content Marketing Program, RADIATE Tourism Program and the Compelling Tourism Communities Initiative. There will be a wide range of tactics including both digital media and traditional media advertising. These campaigns will be seasonal to keep people exploring all year long.

Learn more about our programs