Operating an Accommodation Business
Tourism Nova Scotia offers a range of resources and services to support tourism operators who want to start, expand, enhance or market an accommodation business. Click through the links below to find information to help you reach your business goals.
Get Inspired
Across the province, operators are developing unique accommodations that help set Nova Scotia apart as a vacation destination. Click through the success stories below from new or recently expanded accommodations. See what sets them apart, what motivates the operators to be part of the tourism industry, and what advice they have for excelling in the accommodation sector.
Get Promoted
When you're ready to start welcoming visitors, you can work with Tourism Nova Scotia to promote your business to national and international travellers through our marketing channels, including the Doers & Dreamers Guide, NovaScotia.com and provincial visitor information centres.
Get Advice
If you have further questions about starting or operating an accommodation business, please contact:
Nick Fry
Manager of Business Development
nick.fry@novascotia.ca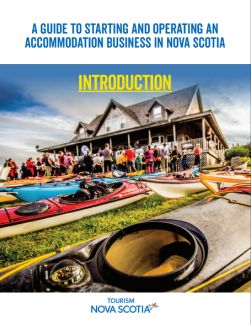 Guide to Starting and Operating an Accommodation Business
If you're just getting started or looking to expand your business, a great first step would be to review our Guide to Starting and Operating an Accommodation Business. The guide is full of practical information to help you work towards your vision for your business.