2019 Tourism Statistics Now Available
Thursday, April 16, 2020
Tourism Nova Scotia now has all the required data to report on tourism industry performance for 2019.  While the timing is not ideal in midst of this challenging situation, we are committed to sharing these results with you and moving forward together.  These statistics reflect the combined efforts of tourism businesses, organizations, communities, and governments, and include activities by both Nova Scotians and non-resident visitors.

2019 was an excellent year for Nova Scotia's tourism industry with 2.3 million non-resident visitors to the province, and estimated tourism revenues of $2.64 billion. While these results are not the best the industry has experienced in recent years, they are impressive given the challenges with the grounding of Boeing Max aircraft which resulted in less direct air capacity from key domestic and overseas markets; the absence of the Maine-Nova Scotia ferry which contributed to a decline in visitation from the United States by road; and Hurricane Dorian which contributed to a significant decline in visitation in September 2019.

2019 tourism performance highlights: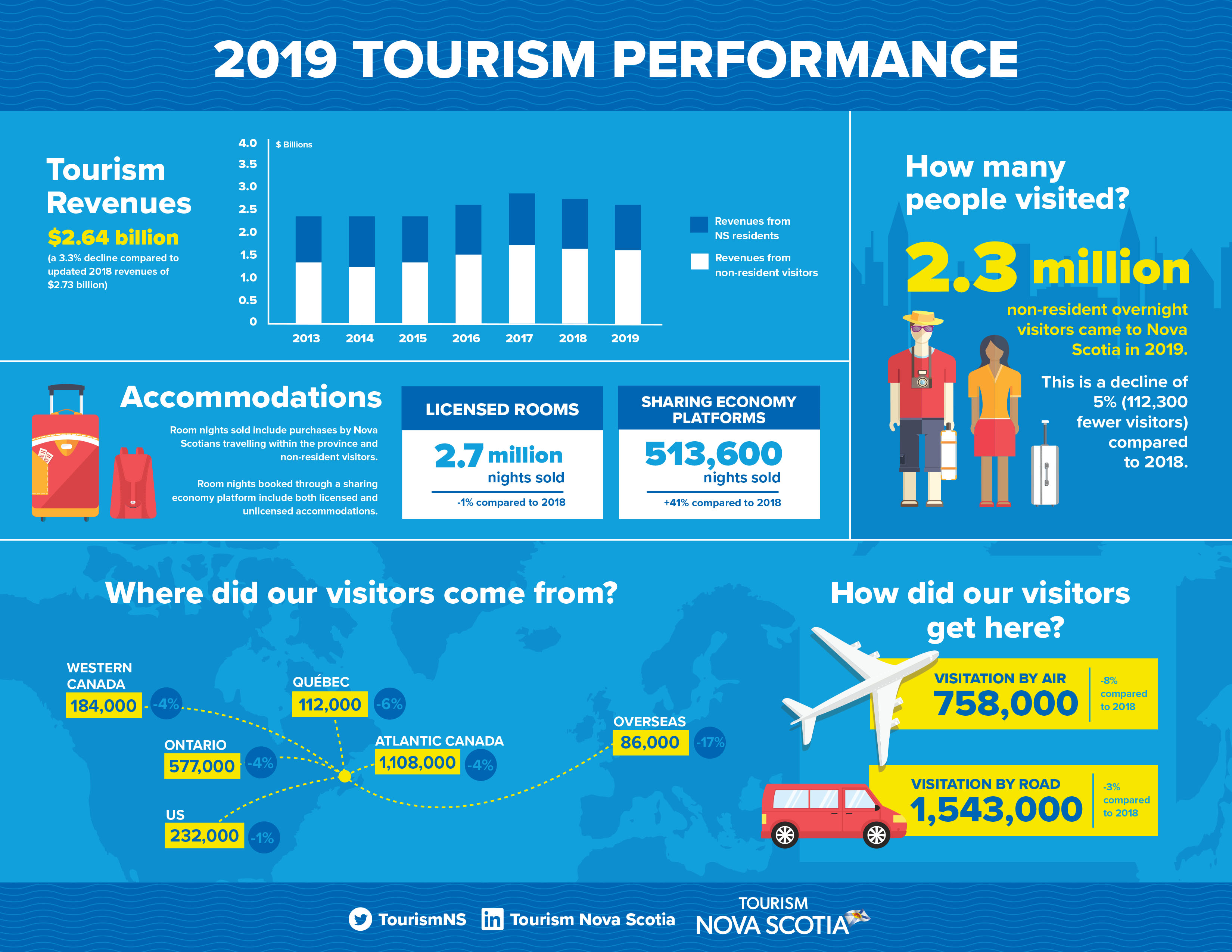 See more 2019 tourism performance statistics.

We know 2020 will be a challenging year for the tourism industry as we deal with the impacts of the COVID-19 pandemic. Tourism Nova Scotia is conducting research to develop scenarios that will estimate the impact of COVID-19 on tourism demand, and the resulting impact on provincial tourism revenues in 2020 and 2021. This will not be a "business as usual" year and in the short term we are adapting our 2020-21 research, marketing, business and experience development and communication plans to lead the tourism industry through recovery.  In the coming months, we will work with government and partners to redefine Nova Scotia's tourism growth strategy based on changes and opportunities resulting from the COVID-19 pandemic. 
Related links: